Hesgoal has established itself as one of the biggest, free (but highly illegal) live football streams in the UK. With every soccer league you can think of shown, it's a leading website for armchair football fans.
In December 2022, the domain Hesgoal.com was seized by the HSI (Homeland Security Investigations) in the United States due to ongoing copyright infringement. This follows on from March the same year, when they were forced to remove all live football streams showing English Premier League and UEFA Champions League soccer matches after legal challenges from official broadcast rights owners took action against Hesgoal and their website, hesgoal.com.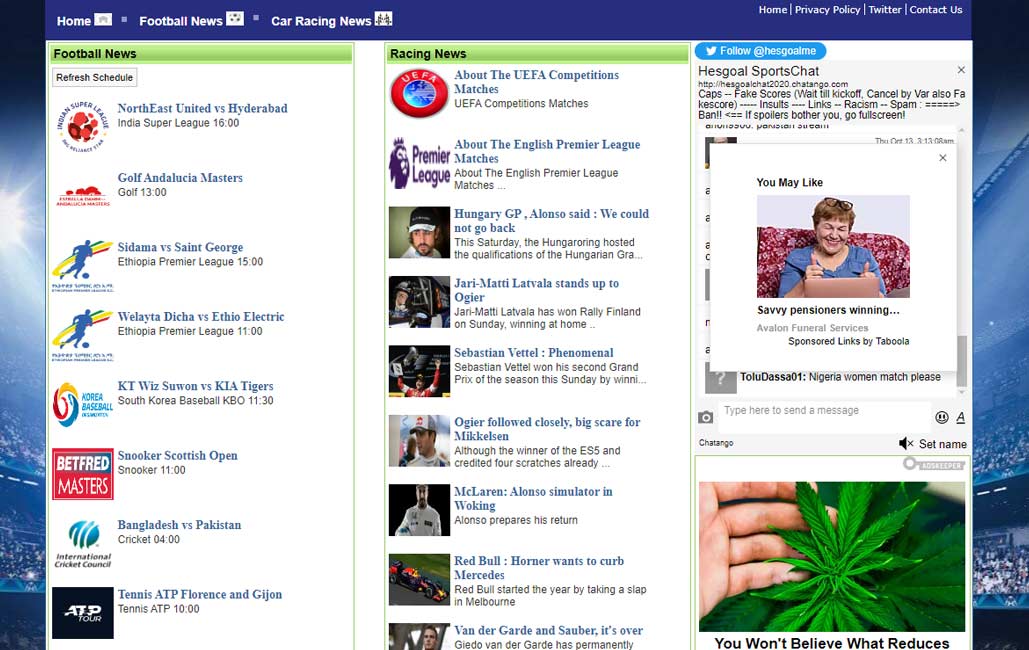 Hesgoal is still one of the biggest live football streaming brands on the web and in the UK despite their main domain being taken down - as of April 2023, cloned Hesgoal domains can be found at hes-goals.tv, hesgoal-tv.com, hesgoal.world, hesgoaltv.me and hesgoals.top
Mainly serving football fans with 1000's of free soccer streams from the world of football, Hesgoal also provides streams for tennis, basketball, F1, boxing, UFC, NFL and other sporting events
In 2022, Hesgoal.com removed all live streams to the English Premier League and UEFA Champions League following legal action - however, there are other Hesgoal clones (which they probably own) that still supply live streams of these matches
Just so you know, Where's the Match DOES NOT supply any illegal Hesgoal streams - any links off this page will take you to the legal TV rights owners of upcoming live soccer games or other options to watch live instead of via Hesgoal
Hesgoal - contents
Outside of the legal realms of watching live football, Hesgoal UK is now the most reknown website that provides coverage of football streams and other major sporting events from around the world.
Despite many attempts to bring the site down (due to it's copyrighted material), the Hesgoal brand is still online today via many cloned Hesgoal domains.
What exactly is Hesgoal?
According to recent browsing statistics, Hesgoal is the most popular of all the free football streaming websites in terms of organic traffic it receives.
Despite not being mobile friendly at the moment, the Hesgoals website is very easy to navigate and it's simple to find a stream for an upcoming football match.
Accompanying many of the Hesgoal streams is an online chat that allows users to talk about the match they are watching.
During a match, millions of football fans in the UK make use of the free streams that Hesgoal provides, to the annoyance of the Premier League and official broadcasters - this usually means live access to the Premier League, EFL Championship, Carabao Cup and UEFA Champions League on a regular basis.
Most of the streams that Hesgoals offer are of HD quality, so a good internet connection is required if users want an un-interrupted online experience.
Whether football fans support one of the top 6 teams in England or a lower league club, Hesgoal covers them all with their online football streams. If it is live, it is likely to be covered on the Hesgoal site.
Hesgoal and Football Streaming portals
Live online coverage of football streams is now big business and is now the most popular method of watching live football - fans now opt for online rather than watching football on TV these days.
The growth of free football streams has put major financial constraints on the official broadcasters around the world who pay millions of pounds for the live rights to show in the UK and are constantly threatening legal action against such streamers - despite this ongoing battle between broadcasters and streamers, it hasn't stopped the emergence of them as they regularly respawn as quickly as they are taken down.
Hesgoal seems to be here for the long term despite competition from rival streamers such as TotalSportek and others who have become incredibly popular over recent years. It seems there is plenty of room for multiple football streams so users can often watch on other websites if one is taken down.
As trends continue to switch to mobile devices, many football streams are offering a mobile streaming service to aid the many younger users who opt to watching live football on the go rather than on a fixed desktop device.
Due to the rise in pay-per-view subscription fees, many users have turned their attentions to free streams as the quality is just as good, and in some cases, more convenient as being online is cheap and easily accessible.
However, even free streams such as Hesgoal have mounting costs. This has resulted in some football streaming websites creating a monthly subscription or membership fee, such as Ronaldo7. Hesgoal remains free, but they do have advertising placed on their website to recoup these costs.
Social Media has also started offering football streams with Facebook and Twitter being used as a service to supply live football streams.
Hesgoals - A Brief History
The website has been around since early 2016 and has grown considerably during the Covid-19 pandemic and beyond since the only method of watching live football was via TV and behind closed doors.
Copyright is the biggest problem that Hesgoal faces, particularly from Sky and BT in the UK as they are offering free football streams of Premier League games that are otherwise behind a paywall in the UK. During each live football game, millions of sports fans are logging onto Hesgoal to watch instead of paying a subscription fee from Sky.
Hesgoal currently has a variation of domain names in Google to prevent other websites from taking traffic away from their service - they now boast the biggest football fan base in the UK. For example Hesgoal.tv and Hesgoal.soccer are mirror domains that effectively point users to the main website with DMCA messages to protect them against any copyright rule breaks.
By doing this, Hesgoal are attempting to side-step copyright laws and state they are simply providing links and hold no responsibility for the content of any football streaming content - this is a common feature that can be seen on any of the other popular free streaming sites such as MamaHD.
Hesgoal Streams
Available 24/7, the Hesgoals streaming website is known to be the most reliable sources for watching live football online.
Most users find the website by performing various Google searches - most know them by their real name Hesgoal, but others can find them by searching for Hes Goal, Hesgoals, Hesgoal.com and even HasGoul will find their live streams!
Recent online statistics suggest that many football fans log into Hesgoal's football streams just as much as the official channels on Sky Sports or BT Sport, with millions of users choosing to watch online for free.
Since the quality of their HD streams are so good, users no longer have viewing issues when watching Hesgoal streams - this was once one of the pitfalls to watching live streams online as the quality was often poor and no substitute to watching on traditional TV.
The Hes Goal website is so popular that many other streaming sites try to copy their model (such as how Cricfree was copied so much in the past) but many don't get the same growth as their stream reliability often lets them down.
As well as offering popular football matches from the UK such as Premier League or FA Cup games, Hesgoal provides live streams from leagues around the world such as Bundesliga, La Liga, Serie A and even further afield.
This is a restriction that pay-per-view TV channels have as they tend to show more localised games more than football games from around the world. Whilst this caters for most football fans in the UK, some like to watch matches from around the world which is where Hes Goal is useful.
HesGoal football streams don't require a subscription, nor do they request your email address or personal information - you simply log on and choose the match you want to stream.
However, if you want to interact with other fans on the Hesgoal site, you can register and join in via the online chat feature.
Hesgoal football streams are free to users and they don't need to create an account, but they should be cautious about using the website since it is broadcasting copyrighted material similar to how video piracy websites operate.
Hesgoal News Articles
In order to appear more professional and genuine in the eyes of the law, the Hesgoal news section is written to try to disguise the stream section of the website.
Although regularly updated, the Hes Goal news articles are not of the best quality but they will score points in the eyes of Google who like to see updated content to increase rankings.
Further investment into their news area will certainly help retain users on the website (another important element for getting to the top of Google rankings for live football streaming websites) and ensure users are well looked after whilst they watch their favourite football team online.
Hesgoal copycats
It is common knowledge that the Hesgoal name is attracting copycat football streaming sites who want a piece of the action in terms of website traffic and potential financial gains.
Many new Hesgoal type domains (such as hesgoal.win) have appeared in recent months which makes it increasingly hard for users to find the original website - eventually the name Hesgoal may become so saturated that Hesgoal.com may need to re-invent their brand to keep their user base with them.
Ultimately, the popularity of these free football streaming websites can often be their own downfall, as many try to imitate the success of big brands such as Hesgoal once they are well noticed - this has happened to other free football streams in the past such as VIPLeague, Crackstreams, Futbol Libre and Futemax.
Whilst there is no doubt free football streams such as Hesgoal are very popular amongst football fans with millions logging on each week, we would always advise to watch online via the digital platforms offered by the official broadcasters such as Sky Sports, BT Sport, Viaplay Sports and others.
Hesgoal Clones
As mentioned, the Hesgoal domain has been heavily cloned, sometimes by the original owner who have created multiple streaming sites in order to prevent competitors from entering the first page of Google for Hes Goal related searches.
This strategy is also carried out by football streaming competitors who will purchase hesgoal domains with obscure domain extensions (such as hesgoal.win, hesgoal.soccer, hesgoal.biz and even hesgoal.news)
Other Football streaming websites such as EPLsite, Cricfree and Ronaldo7 are subject to this kind of attack against them and have had to adapt and react in order to keep their domain above this clones.
Since the activity of Hesgoal football streams is not strictly legal, they will find it impossible to prevent others from purchasing similar domain names with the HesGoal name. Most legitimate businesses would be able to stop copycats from "passing off", but this is a luxury Hesgoal does not have since their business is very much operating against the law in the UK.
Whilst Hesgoal is now one of the most popular websites for UK users looking to watch live sport, it is not a business model that will ever be secure. TV rights owners are always pursuing quick ways to shut online streams down and work with the courts and governments to pass legislation in order to swiftly shut domains such as Hes Goals down.
Furthermore, users of Hesgoal could one day find themselves in court for accessing these live football streams without the permission of the broadcaster. To avoid this, users should opt to watching the game legally for the foreseeable future.
Live Football currently streaming on Hesgoal
Use our Match schedule links below to find out what live football is being shown on Hesgoal.com (without permission) right now:
- Live Football on Sky Sports
- Live Football on BT Sport


Last Updated: 08/06/2023 09:41:39