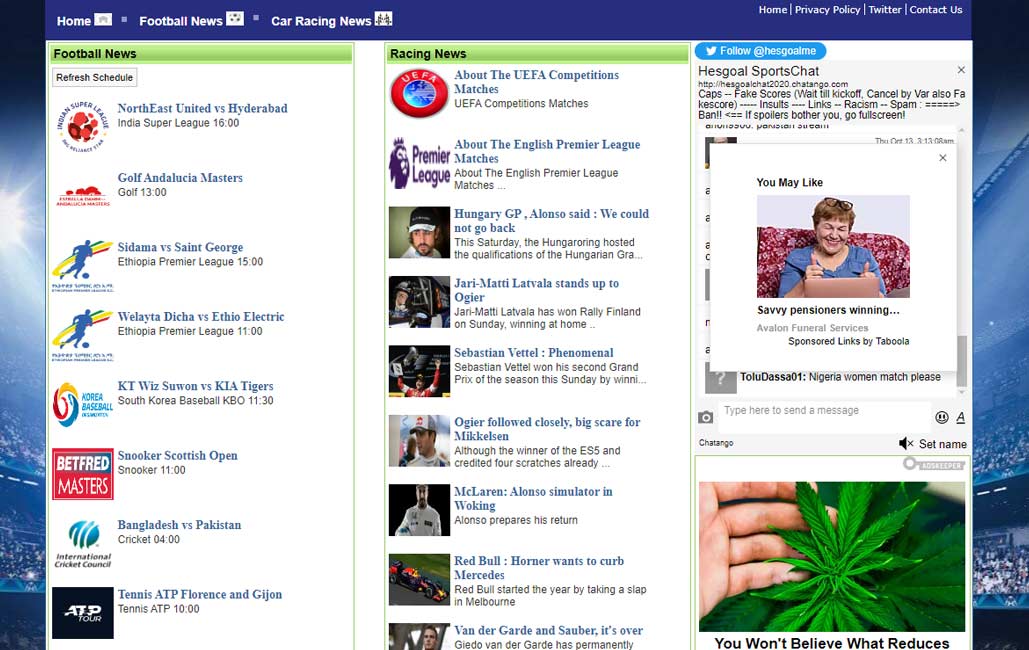 As of October 2023, dozens of cloned Hesgoal domains can be found operating at hes-goals.io, hesgoal.one, hesgoals.top, hesgoal-tv.com, hesgoal.world and hesgoaltv.me - these domains have avoided the DMCA net but it will only be a matter of time before they are removed from search engines and subsequently moved to new domains
Just to be crystal clear, WherestheMatch.com DOES NOT supply any illegal streams - any links off this page will take you to the legal TV rights owners of upcoming live soccer games or other options to watch live instead of via Hesgoal
Why do football fans still use Hesgoal if they know it's illegal?
Despite a jail sentence being handed to the owners of Hesgoal.com, football fans still continue to watch live football on Hesgoal branded websites. With the increasing cost of living crisis in the UK, football fans continue to look for a free way to watch the match rather than pay out for subscriptions to the official broadcasters - it is now common knowledge that users are equally breaking the law by accessing Hesgoal streams but they continue to take the risk.
During a typical match on a weekend, millions of football fans in the UK make use of the free streams that Hesgoal provides - this usually means live access to Premier League, EFL Championship, Carabao Cup and UEFA Champions League games.
Most of the streams that they offer are of HD quality, so a good internet connection is required if users want an un-interrupted online experience. Most would argue Hesgoal streams are no different to watching in front of the TV once they have navigated through various pop-ups and intrusive banner advertising.
The Pros & Cons
Live online coverage of football streams is now big business and is now the most popular method of watching live football - fans now opt for online rather than watching football on TV these days.
The growth of free football streams has put major financial constraints on the official broadcasters around the world who pay millions of pounds for the live rights to show in the UK and are constantly threatening legal action against such streamers - despite this ongoing battle between broadcasters and streamers, it hasn't stopped the emergence of them as they regularly respawn as quickly as they are taken down.
Hesgoal seems to be here for the long term despite competition from rival streamers such as TotalSportek and others who have become incredibly popular over recent years. It seems there is plenty of room for multiple football streams so users can often watch on other websites if one is taken down.
As trends continue to switch to mobile devices, many football streams are offering a mobile streaming service to aid the many younger users who opt to watching live football on the go rather than on a fixed desktop device.
Due to the rise in pay-per-view subscription fees (ironically these fees rise because watching illegally actually forces broadcaster prices up), many users have turned their attentions to free streams as the quality is just as good, and in some cases, more convenient as being online is cheap and easily accessible.
However, even free streams have mounting costs. This has resulted in some football streaming websites creating a monthly subscription or membership fee, such as Ronaldo7. Hesgoal remains free, but they do have advertising placed on their website to recoup these costs.
Social Media has also started offering football streams with Facebook and Twitter being used as a service to supply live football streams.
Copyright infringement & growing demand
The original Hesgoal website had been around since early 2016 and grew considerably during the Covid-19 pandemic and beyond since the only method of watching live football was via TV and behind closed doors.
Copyright is the biggest problem that Hesgoal faces, particularly from Sky and TNT Sports in the UK as they are offering free football streams of Premier League games that are otherwise behind a paywall in the UK. During each live football game, millions of sports fans are logging onto Hesgoal to watch instead of paying a subscription fee from Sky.
Hesgoal currently has a variation of domain names in Google to prevent other websites from taking traffic away from their service - they now boast the biggest football fan base in the UK. For example Hesgoal.tv and Hesgoal.soccer are mirror domains that effectively point users to the main website with DMCA messages to protect them against any copyright rule breaks.
By doing this, Hesgoal are attempting to side-step copyright laws and state they are simply providing links and hold no responsibility for the content of any football streaming content - this is a common feature that can be seen on any of the other popular free streaming sites such as MamaHD.
Domain copycats try to cash in
It is common knowledge that the Hesgoal name is attracting copycat football streaming sites who want a piece of the action in terms of website traffic and potential financial gains.
Many new similar domains (such as hesgoal.win) have appeared in recent months which makes it increasingly hard for users to find the original website - eventually the name Hesgoal may become so saturated that Hesgoal.com may need to re-invent their brand to keep their user base with them.
Ultimately, the popularity of these free football streaming websites can often be their own downfall, as many try to imitate the success of big brands such as Hesgoal once they are well noticed - this has happened to other free football streams in the past such as VIPLeague, Crackstreams, Futbol Libre and Futemax.
Whilst there is no doubt free football streams are very popular amongst football fans with millions logging on each week, we would always advise to watch online via the digital platforms offered by the official broadcasters such as Sky Sports, TNT Sports, Viaplay Sports and others.
Cloned domains by owners who try to protect their brand
As mentioned, the Hesgoal domain has been heavily cloned, sometimes by the original owner who create multiple versions of itself in order to prevent competitors from entering the first page of Google for Hesgoal related searches.
This strategy is also carried out by football streaming competitors who will purchase domains with obscure domain extensions (such as hesgoal.win, hesgoal.soccer, hesgoal.biz and even hesgoal.news)
Other Football streaming websites such as EPLsite, Cricfree and Ronaldo7 are subject to this kind of attack against them and have had to adapt and react in order to keep their domain above this clones.
Since the activity of football streams is not legal, they will find it impossible to prevent others from purchasing similar domain names with the Hesgoal name. Most legitimate businesses would be able to stop copycats from "passing off", but this is a luxury they do not have since their business is very much operating against the law in the UK.
Whilst Hesgoal is now one of the most popular websites for UK users looking to watch live sport, it is not a business model that will ever be secure. TV rights owners are always pursuing quick ways to shut online streams down and work with the courts and governments to pass legislation in order to swiftly shut domains down.
Furthermore, anyone using the website could one day find themselves in court for accessing these live football streams without the permission of the broadcaster. To avoid this, users should opt to watching the game legally for the foreseeable future.
What football is currently live on Hesgoal?
Use our Match schedule links below to find out what live football is being shown on a variety of domains (without permission) right now: